Refine my search
I'm looking for my Brit Hotel
All the hotels in
03/10/2023 to 04/10/2023
Confort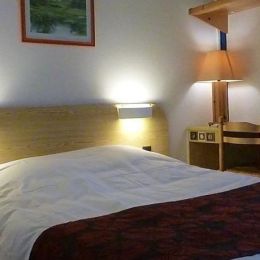 Hotel Le Beaulieu
Satisfation client
On 47 reviews
The Brit Hotel Beaulieu is located just 5 minutes from Poitiers city centre. Th...
Rating :
4.4/5
Satisfation client
On 47 reviews

Free Wifi

Parking

Restaurant

Canal+
And I cumulate 2.5€ on
my loyalty account
Your stay in Poitiers
Treat yourself to a nice trip at our hotel in Poitiers and explore the wonders of this city!
Poitiers has a rich historic and religious heritage that you can see through its emblematic monuments: the Saint-Jean Baptistery, the Saint-Pierre Cathedral, the Notre-Dame-la-Grande and Saint-Hilaire-Le-Grand churches, the City Hall or the Palace of Justice, former seat of the Counts of Poitou and Dukes of Aquitaine.
The city center has many timber framing houses that you'll get to discover, among other architectural treasures, as you follow Poitiers' touristic circuits.
Locals are proud to live in a place where culture plays a central role, with over 3.000 events organized each year at venues such as the Carré Bleu, highly appreciated by Jazz fans or the Confort Moderne, where the latest electro acts like to perform.
Many of Camille Claudel's exceptional artworks can be seen at the Sainte-Croix Museum.
During your stay at our hotel in Poitiers, don't miss the opportunity to go to Futuroscope. This futuristic theme park for children and adults hosts no less than 1.5 M visitors every year.
Whether you are looking for athletic, fun or cultural activities, Poitiers also has many options. You can go bowling, swimming or play golf!
Don't wait any longer, book your room right now at our Poitiers Brit Hotel!