Refine my search
I'm looking for my Brit Hotel
All the hotels in
03/10/2023 to 04/10/2023
Confort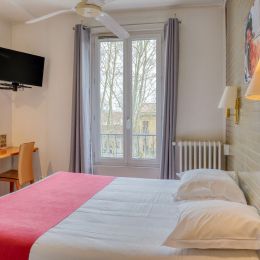 Spa Hotel du Commerce
Satisfation client
On 137 reviews
Located in the heart of Bergerac, the Brit Hotel Spa du Commerce offers 35 room...
Rating :
3.8/5
Satisfation client
On 137 reviews

Free Wifi

Animals accepted
And I cumulate 2.5€ on
my loyalty account
Your stay in Bergerac
Stay at our Bergerac hotel and explore a charming touristic region!
A true temple of art and history, Bergerac is also famous for its country houses and the beauty of its roman abbeys and churches. It is located right at the heart of an exceptional wine country.
All year long, visit its Musée du Vin et de la Batellerie, as well as the Napoleon Museum and the Tobacco Museum. For a family walk or a romantic stroll, enjoy the many parks and gardens located close to our Bergerac hotel, such as the panoramic gardens of Limeuil.
Marvel at Bergerac's 12.500 hectares' vineyard located on both of Dordogne's banks. Local wine-growers will be more than happy to invite you to a private wine tasting session! Be sure to also try foie gras, truffles and duck.
Bergerac has many activities to offer, from karting to golfing or bowling. If you're feeling adventurous, give skydiving a try or go on your first flight!
Ever heard of Geocaching? Plug your GPS and embark on a monumental treasure hunt throughout the city!
Make yourself comfortable by booking your stay at the Brit Hotel Spa du Commerce of Bergerac!