Refine my search
I'm looking for my Brit Hotel
All the hotels in
03/10/2023 to 04/10/2023
Confort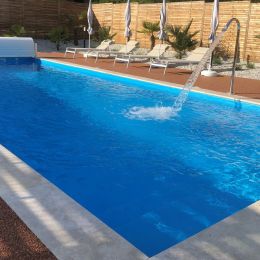 Brit Hotel Brive
Satisfation client
On 605 reviews
Check out our 25-room hotel in Brive....
Rating :
4.8/5
Satisfation client
On 605 reviews

Free Wifi

Parking

Restaurant

Canal+
Confort
Brit Hotel Saint-Yrieix-La-Perche
Satisfation client
On 13 reviews
Relax in one of the 23 rooms of our comfortable hotel located in Saint-Yrieix-La...
Rating :
4.5/5
Satisfation client
On 13 reviews

Free Wifi

Parking

Breakfast Buffet
Your stay in Brive
Treat yourself to a trip in the south of France and book a room at the Brit Hotel Brive! Brive (also known as Brive-la-Gaillarde) is located in the Aquitaine-Limousin-Poitou-Charentes region. Its almost 50.000 inhabitants make it Corrèze department's most populated city.
You'll be seduced by its architectural charms as you walk through its narrow alleys and pass by mansion houses and beautiful buildings such as the Collège des Doctrinaires and the Maison Cavaignac.
Stop by the Place du 14 juillet and admire the light house shaped water tower built during the 19th century. The city's farmer market is a local attraction once celebrated by famous singer Georges Brassens in a 1953 song. Truffles, mushrooms, nuts and Limousine apples are only few of the delicious local products that you'll find there.
Explore Brive's rich historic and religious heritage by visiting the collégiale Saint-Martin. Built during the 12th century, it is a great example of roman architecture. Saint-Antoine's caves, which were named that way after Saint-Antoine de Padoue prayed there in 1226, are also a must-see. This pilgrimage site is a perfect spot for a walk and offers a nice panorama of Brive. Last but not least, the 14th century Saint-Libéral Chapel built in a gothic style hosts exhibitions all year long.
Book your hotel in Brive and discover the Museum of Art and History in Hôtel Labenche (built in a Renaissance style) and the Musée Edmond Michelet de la Résistance et Déportation, located in the former Minister's house. The Garage, a contemporary art venue and the local theatre are open all year long and organize many cultural events.
Brive and its surroundings have many natural charms! The Causse lake is a perfect place to go hiking, only a few kilometers south of Brive. If you want your experience to get even more athletic, kayaking, rafting, climbing and golfing are other possible activities.
Find the ideal way to entertain your friends or family while at the Brit Hotel Brive: adventure park Nature Evasion has a laser game, a paintball and a treetop course, and WizzTiti park offers athletic courses for 3 years old and up.
Make the most out of you trip to Brive by pleasing your taste buds with the local gastronomy and its delicious products: black truffle, foie gras, duck magret, terrines, confits, galettes corréziennes…Try all of the south west region specialties!
If you are rugby fan, you'll have even more reasons to appreciate Brive! In the south west tradition, Brive's inhabitants are in love with this sport. In 1997, the local club (CA Brive) even won the European championship. Rugby fans from the entire region get together at the Amédée-Domenech stadium. Book your ticket for a chance to experience the unique atmosphere of a game day!
Don't wait any longer, embark on a new touristic adventure at our Brive hotel!