Refine my search
I'm looking for my Brit Hotel
All the hotels in
03/10/2023 to 04/10/2023
Confort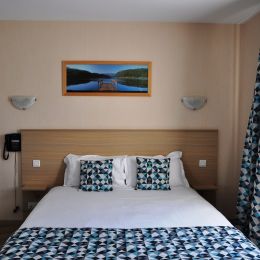 Hotel Azur Hotel
Satisfation client
On 59 reviews
The Brit Hotel Azur, located in Cholet, has been open since 1 May 2010. This hot...
Rating :
4.6/5
Satisfation client
On 59 reviews

Free Wifi

Parking

Canal+

BeIn Sports
Privilège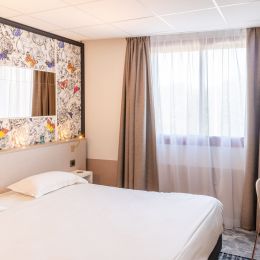 Brit Hotel Nantes La Beaujoire - L'Amandine
Satisfation client
On 226 reviews
The Brit Hotel Nantes Beaujoire - L'Amandine is a hotel/restaurant located in fr...
Rating :
4.8/5
Satisfation client
On 226 reviews

Free Wifi

Parking

Home 24H/24

Restaurant
And I cumulate 2.5€ on
my loyalty account
Your stay in Cholet
Book your hotel in Cholet and go on an exciting touristic adventure!
The Art and History Museum and its two galleries are universally appealing: the history gallery will teach you more about Cholet and its surroundings, while the art gallery will enable you to discover the work of Cholet native artists Pierre-Charles Trémolières and François Morellet.
Often nicknamed "capital city of the handkerchief", Cholet's fame also came from this small square of fabric. Find out how it all started and learn more about the world of fabrics at the Musée du textile, built in a former laundry factory.
Fall in love with the neo-gothic style of Notre-Dame Cathedral, the charming Sacré-Coeur church (climb its 132 steps to access the bell tower!) and the fascinating Tour du Grenier à Sel, built during the 16th century.
Lakes, ponds, forests…needless to say that Cholet is a great place for nature lovers. No less than 15 trails to hike or ride a bike on will take you on a soothing journey. After a day filled with discoveries of all kinds, get some rest in the cosy rooms of our Cholet hotel…
Jardin du Mail, Parc de Moine, Parc Oriental and Camifolia are great places to enjoy a picnic or just spend time with your family or friends.
Our Cholet hotel is ideally located close to famous theme park Puy du Fou. Only 25 km away from Cholet, enter a magic world where enchanting historic shows for adults and children have been produced for over 30 years!
Don't wait any longer, book your room in our Cholet hotel!