Refine my search
I'm looking for my Brit Hotel
All the hotels in
03/10/2023 to 04/10/2023
Confort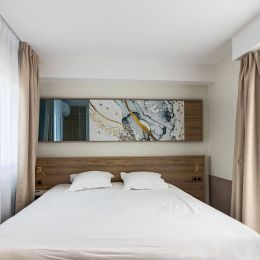 Brit Hotel Angers Parc Expo - L'Acropole
Satisfation client
On 179 reviews
The Brit Hotel L'Acropole, located in Angers, has 56 rooms, a restaurant and a s...
Rating :
4.5/5
Satisfation client
On 179 reviews

Free Wifi

Parking

Home 24H/24

Night watchman
And I cumulate 2.5€ on
my loyalty account
Confort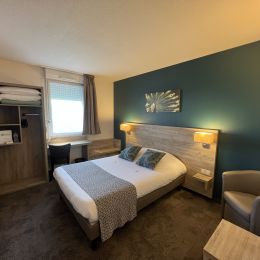 Brit Hotel Saumur
Satisfation client
On 173 reviews
The Brit Hotel Saumur is composed of 31 comfortable rooms with private bathroom,...
Rating :
4.7/5
Satisfation client
On 173 reviews

Free Wifi

Parking

Home 24H/24

Opening hours of the receipt
And I cumulate 2.5€ on
my loyalty account
Your stay in Angers
During your stay in our hotel in Angers, go to discover its famous castle built in the thirteenth century and composed of 17 towers. It houses the famous wall hanging of the Apocalypse which represents the largest set of medieval tapestries known to date. The castle is one of the best preserved fortresses in France, it often represents the city of Angers. You will find in Angers something to satisfy your thirst for culture through the National Orchestra, the theater, or the opera.
After visiting the castle of Angers, you can continue your momentum with the castles of Brissac, Plessis-Bourré or Plessis-Macé. Many other buildings, testifying to the rich architectural history of the region, await you in Angers or nearby. Nature is very present in Angers. Ponds and parks line the city. You will also find in Angers the Jardin des Plantes but also Ile Saint Aubin, the latter being classified Natura 2000. Wildlife reserve and natural it is a protected area where meadows and market groves mingle.
Anjou also rhymes with vineyards, especially since these are valued by the label "Vineyards and discoveries". You can discover the wineries through excursions and visits and why not stop for small tastings! Near Angers, you can go for great bike rides including the routes "Loire by bike". Also know that the Eurovelo 6 bike path goes through Angers and can take you to Romania! Many hikes are possible in Angers and its surroundings whether on foot or horseback. You can also ride in a boat that will transport you at the option of Maine or you can also indulge in a canoe ride.
The Tourist Office of Angers will offer tours and excursions, based on heritage, crafts, gastronomy and plants. An entire program that will make you discover what the city has to offer!
Book a room in our hotel in Angers and discover the culinary specialties of the region. Between treats such as Quernons d'Ardoise and different liqueurs, your taste buds will be delighted. Simplicity and authenticity are the key words of Angevins dishes, which you can share with locals who have the sense of celebration and hospitality.
Do not wait any longer, book in our Brit Hotel in Angers!