Refine my search
I'm looking for my Brit Hotel
All the hotels in
24/09/2023 to 25/09/2023
Confort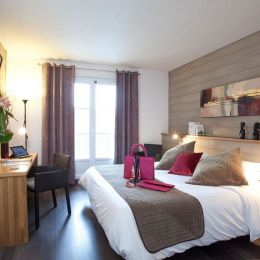 Brit Hotel du Golf Le Lodge
Satisfation client
On 16 reviews
Discover our hotel with 30 comfortable rooms located in Salies-de-Béarn. ...
Rating :
4.8/5
Satisfation client
On 16 reviews
Your stay in Salies-de-Bearn
Book your hotel in Salies-de-Béarn and discover the Cité du Sel!
Located halfway between Bayonne and Pau, Salies-de-Béarn welcomes you for a rejuvenating stay in the southwest of France. Discover a charming city that has been able to modernize over time.
From the Roman occupation to the present day, the fate of Salies-de-Béarn has always been closely linked to the trade in salt produced by its salt fountain. Even today, white gold still holds an important place in the city. The Salies-de-Béarn salt works produce in particular the salt of Bayonne ham! To learn more about the history of salt during your stay in our hotel in Salies-de-Béarn, visit the "Museum of Salt and Traditions Béarnaises" or the "Pôle Muséographique des Salines".
Salies-de-Béarn is also famous for its thermal baths. With a unique know-how since 150 years, they offer you a moment of relaxation and well-being. Enjoy the wonderful therapeutic properties of Salies-de-Béarn's salt water during a spa treatment. These thermal baths are composed of several swimming pools, jacuzzis, waterfalls or whirlpools.
Some places steeped in history are also to be discovered when visiting the city. For example, go through the Saint-Vincent church or take a guided tour of the pretty Crypt of Bayaà.
Numerous sports, water sports and leisure activities can also enhance your stay in Béarn.
Don't hesitate and book your room in our hotel in Salies-de-Béarn now!