Refine my search
I'm looking for my Brit Hotel
All the hotels in
03/10/2023 to 04/10/2023
Confort
Hotel du Lac
Satisfation client
On 89 reviews
The Hotel du Lac in Saint Paul les Dax offers 212 spacious and comfortable rooms...
Rating :
4.6/5
Satisfation client
On 89 reviews

Free Wifi

Parking

Home 24H/24

Restaurant
Confort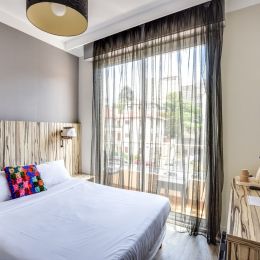 Brit Hotel Marbella
Satisfation client
On 171 reviews
The Brit Hotel Marbella is a 3-star hotel located in the most famous city of the...
Rating :
4.3/5
Satisfation client
On 171 reviews

Free Wifi

Home 24H/24

Night watchman

Luggage
Your stay in Dax
Go on a resourcing trip at our hotel in Dax!
The French capital city of spas is the ideal place to relax your body and mind. Every year 52.000 people from all over the country come to Dax to recharge their batteries! Phlebology, rheumatology, fybromialgia…there's nothing that can't be cured in Dax! The city even put together several "Health and Nature" circuits outside the spa centers to enable curists to get back in shape and emphasize their well-being.
Dax has a rich historic heritage, with fascinating ancient buildings and curtain walls. While you stay at our hotel in Dax, visit the magnificent gothic style Notre-Dame Cathedral, built in the 13th century.
At the heart of Dax, the Fontaine Chaude spa symbolizes the city's Gallo-Roman roots. The almost 60°C water is renowned for its healing benefits! Dax also has a rich and vibrant cultural scene. During your trip in the Landes department, enjoy the traditions and festive southwestern spirit. The Feria is typical of the local culture and takes place each year in August. For five entire days, Dax is celebrated through music, bodegas (bagpipes) and traditional folklore.
Make the most of your stay at our Dax hotel and don't miss the opportunity to enjoy typical regional activities such as corridas, courses landaises and Basque pelota.
Ready to dive into Dax's treasures? All you have to do is book your hotel!