Refine my search
I'm looking for my Brit Hotel
All the hotels in
30/11/2023 to 01/12/2023
Confort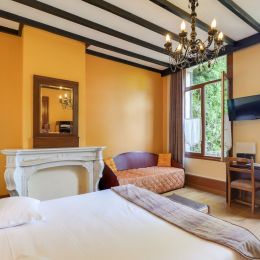 Brit Hotel Notre-Dame
Satisfation client
On 45 reviews
Discover our 31 rooms comfortable hotel located in the heart of Valenciennes....
Rating :
4.5/5
Satisfation client
On 45 reviews

Free Wifi

Canal+

Animals accepted
And I cumulate 2.5€ on
my loyalty account
Your stay in Valenciennes
Stay at our Brit Hotel Notre-Dame and discover the lovely city of Valenciennes. With over 41.000 inhabitants, it's Nord-Pas-de-Calais-Picardie region's most vital economic pole.
The city is renewing itself, with cultural milestones like the re-opening of the second French Museum dedicated to Flemish painting.
There are several monuments that you won't want to miss during your stay at our hotel in Valenciennes: the City Hall, Notre-Dame-du Saint Cordon Basilique (right in front of the hotel!) and the Saint-Géry church and its belfry built in the neo-gothic romantic style are must-see places.
Amateurs of art will enjoy visiting the Fine Arts Museum, where they can admire prestigious painting and sculpture collections of artists from the region.
Valenciennes might remind you of the song "Les Corons" by Pierre Bachelet: the city is home to a quarter called the "coron des 120", where many minor houses were built during the 18th century industrial revolution. The Nord-Pas-de-Calais mining basin is a true touristic place and is even classified as cultural landscape by UNESCO's World Heritage Committee.
Admire Valenciennes' timber framing houses: called "maisons scaldiennes", they were built between the 13th and 16th century and used to host looms.
In need of fresh air, peace and tranquility? Go explore parc de la Citadelle and its écluse des repenties. This huge park contains the remains of a lock which helped defend Valenciennes many times over the past centuries.
The Scarpe Escaut Natural Park is also a must see during your stay at the Brit Hotel in Valenciennes. Created in 1968, it is France's oldest regional park. Countryside landscapes, spa stations, woods and forests give this exceptional place its charm.
Many activities are possible in Valenciennes: laser game, karting, bowling, golf…You'll find something fun to do for sure!
The city also has several cultural events all along the year: the Tandem Festival, the Film Festival, Les Turbulentes Festival and the Bandas Festival are great opportunities to experience the vibrant local scene. Once a year, tourists can also see the colorful Giants Parade in the city's streets.
Wander through Valenciennes's farmer markets and taste fresh local products, as well as other French and foreign specialties.
Booking a room at our Valenciennes hotel is definitely what you need for a nice trip in this city!