Refine my search
I'm looking for my Brit Hotel
All the hotels in
03/06/2023 to 04/06/2023
Confort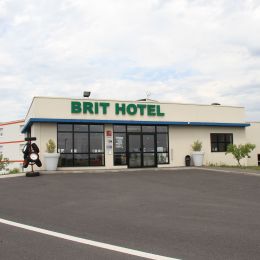 Brit Hotel Montargis
Satisfation client
On 139 reviews
Discover our comfortable hotel with 53 rooms in Montargis ....
Rating :
4.8/5
Satisfation client
On 139 reviews

Free Wifi

Parking

Animals accepted
Frequently asked questions about hotels in Reims
How to find an hotel located in the centre of Reims?
Brit Hotel Aux Sacres is located in the heart of Reims, only 700 metres from the cathedral.
Where can I find a hotel with a restaurant in Reims?
Brit Hotel Reims Neuvillette has a restaurant open for lunch and dinner, Monday to Friday lunchtime.
How to find a hotel in Reims that accepts animals?
All our hotels in Reims accept pets.
How to find a hotel near Reims train station?
Brit Hotel Aux Sacres is located only 500 metres from Reims station.
Where can I find a hotel with family rooms in Reims?
All our hotels in Reims have family rooms.
Your stay in Reims
Clovis' baptism, royal coronations, Gallo-Roman remains…2000 years of history made Reims a legendary place. Come visit this exceptional touristic city by booking a room at one of our hotels in Reims!
The eclectic architectural styles tell us a lot about how the city went through major historic periods: Antiquity, Medieval, classic and contemporary eras. Three sites appear on UNESCO's World Heritage Committee's list. Notre-Dame Cathedral is one of Europe's major gothic style buildings and impresses its visitors thanks to its dimensions and unique architecture. It is located right next to the Brit Hotel Aux Sacres. The Saint-Rémi Museum has important art collections and its Roman-Gothic Basilique can also be admired. The Palais du Tau is part of UNESCO's classified sites thanks to its many treasures.
Reims is also renowned for its gastronomy, but its number one specialty is definitely champagne, with no less than 250 kilometers of caves.
A touristic circuit around champagne will give you a different perspective on the vineyards, as you'll get to meet local producers. They'll be more than happy to teach you more about how the region's symbol is made.
Culinary specialties include Reims' biscuit rose (one of the oldest in France), pain d'épices (made with rye flour and buckwheat honey) and Reims ham. During your trip in one of our hotels in Reims, you won't run out of fun outdoor activities: biking trails, golf courses, dune buggys and canoe on the Marne river are possible options. Hiking trips are also often organized in the Reims Mountain Natural Park. The Coulée Verte is ideal to relax or have fun.
You can also visit Reims for free thanks to its inhabitants. These volunteer Greeters will be happy to help you get to know the city through their anecdotes.
Brit Hotel has two cosy options ready for you in Reims, all you have to do is choose!