Refine my search
I'm looking for my Brit Hotel
All the hotels in
03/10/2023 to 04/10/2023
Privilège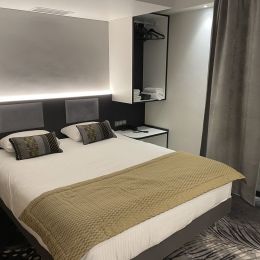 Brit Hotel & Spa Colmar East
Satisfation client
On 389 reviews
The Brit Hotel Colmar East is above all a warm and refined hotel, it has been co...
Rating :
4.8/5
Satisfation client
On 389 reviews

Free Wifi

Parking

Bar

terrace
And I cumulate 2.5€ on
my loyalty account
Confort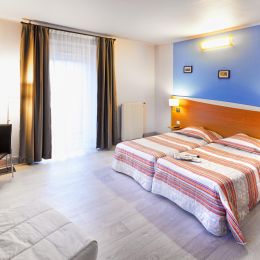 Brit Hotel Munster - Le Grand Hôtel
Satisfation client
On 41 reviews
Discover our 55-room hotel in Munster....
Rating :
4.2/5
Satisfation client
On 41 reviews
Frequently asked questions about hotels in Colmar
Which hotel accepts pets?
All our hotels in Colmar accept pets.
Which hotel is closest to Colmar station?
Which hotel has a restaurant?
Brit Hotel Relais du Ried and Brit Hotel La Ferme du Pape have their own restaurant. Brit Hotel Primo Colmar Centre offers you the opportunity to lunch in a partner restaurant located 600m from the hotel.
How to find an hotel with Spa in Colmar?
Brit Hotel Relais du Ried offers you its wellness area with sauna, hammam and rest room.
Your stay in Colmar
Discover Colmar's historic treasures as you stay in one of our hotels.
You'll be walking through a thousand year of history: Colmar has a rich heritage partly due to its historic center. The Maison des Têtes, with a façade decorated with 111 heads and the Maison Pfister (a mansion house built during the Renaissance era in a medieval style) are two symbols of the city.
Colmar's religious patrimony can be admired at the Dominican Church or at Saint-Martin's Church, two great examples of gothic style.
Thanks to your hotel booking in Colmar, wander through the city's lovely streets and admire beautiful buildings…Stop by Quai de la Poissonnerie and explore the charms of this quarter where fishermen used to sell their fishes.
Several museums contribute to enrich Colmar's cultural scene: the famous Unterlinden Museum has an impressive collection of sculptures that date back to the Medieval and Renaissance eras, among which Matthias Grünewald's "Retable d'Issenheim". Located in what used to be the house of a sculptor, the Bartholdi Museum hosts a collection of sculptures, drawings, sketches and paintings…
There's no way Colmar could be described without talking about its renowned Christmas market! Along with several cities in the east of France, each December, Colmar and many of its squares become an ode to the magic of Christmas. Experience this unique atmosphere and smell the delicious scents of orange and cinnamon by booking a room in one of our two Brit Hotels in Colmar!
Looking for entertainment with family or friends? The little Prince theme park is just what you need! This 24 hectares aerial park (the first in the world) has no less than 32 attractions and activities dedicated to Antoine de Saint-Exupéry's famous character: aerobar (also known as planet of the Drinker), tethered balloon, 3D and 4D movie theatres, touristic train...
Take a beath of fresh air at the Ballons des Vosges Nature Park, where you can go on a resourcing hike. This 3000 km² park is one of the biggest in France. Follow the marked trails and immerse yourself in a wonderful wildlife.
Get a different perspective on Colmar as you embark on a small boat for a guided tour of the Little Venice and Quai de la Poissonnerie.
Ready to fall in love with Colmar? Book your room right now in one of our hotels.