Refine my search
I'm looking for my Brit Hotel
All the hotels in
03/06/2023 to 04/06/2023
Confort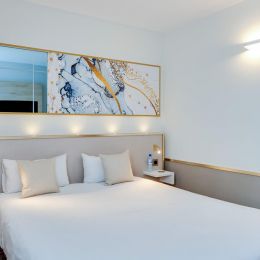 Brit Hotel Orléans St Jean de Braye - L'Antarès
Satisfation client
On 320 reviews
The Brit Hotel Antares*** is located just 5 minutes away from Orléans city cen...
Rating :
4.7/5
Satisfation client
On 320 reviews

Free Wifi

Parking

Home 24H/24

Night watchman
And I cumulate 2.5€ on
my loyalty account
Your stay in Orleans
Discover the history of France by booking your hotel in Orléans!
The city is obviously linked to Joan of Arc who saved France from English invasion in 1429. Here are the main monuments to discover during a stay in Orleans:
The Sainte-Croix cathedral, Gothic style and built in the 7th century (almost as sublime as that of Reims!)
The Hotel Groslot, built by Jacques Groslot at the Renaissance and which became the Hotel de Ville after the Revolution
The Crypt Sainte-Aignan, built by King Robert Le Pieux
The Saint-Pierre-le-Puellier Collegiate Church, the oldest preserved church in Orleans
Orléans is also a museum town with: Beaux-arts museum The House of Joan of Arc, the Museum of Natural Sciences (playful and interactive exhibitions), the Historical and Archeological Museum of Orléanais.
The parks and gardens are numerous in Orléans and are a true invitation to walk (Parc Floral de la Source, Jardin des Plantes, Parc Lours Pasteur ...). Take advantage of the "Loire à vélo" itinerary (800 kilometers of trails) to go cycling in a relaxing natural setting.
Discover also the forest of Orléans and its 50,000 acres which make it the largest forest of French metropolitan France. The forest is home to deer and osprey.
Do not wait any longer, book your Brit Hotel in Orleans now!