All the hotels in
22/05/2018 to 23/05/2018
Confort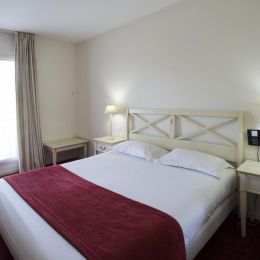 Home 24H/24

Canal+

Animals accepted
Hotel du Perche
The BRIT HOTEL Nogent-le-Rotrou is close to Perche Natural Park. This hotel has 40 rooms.
And I cumulate 2.5€ on
my loyalty account
Your stay in Nogent-le-Rotrou
Treat yourself to a nice trip at our hotel in Nogent-le-Rotrou!
There are many historic and religious buildings to visit in Nogent-le-Rotrou. Number one on your to do list should be the Château Musée Saint-Jean, which was the starting point of multiple crusades and played a major role in the defense from Norman invasions. It is a classified Monument Historique.
Discover Saint-Hilaire church (the oldest one in Nogent-le-Rotrou), Notre-Dame church and the Duke of Sully's Tomb. Roam through the Pâty and Saint-Laurent quarters and admire Renaissance style hôtels particuliers and magnificent sculptures.
Whether you come alone or with your family, you're guaranteed to find the activity that you want in Nogent-le-Rotrou! Swimming, canoeing, kayaking, golfing, fishing, microlighting, horse riding, bowling or simply going to the movies… Anything is possible in Nogent-le-Rotrou! And if you're feeling adventurous, you can even take off in a microlight!
Peacefully hike or ride a horse through Parc Naturel Régional du Perche's forests and hills, a nice opportunity to get to know the Percheron: a breed of horse typical of the region.
No need to hesitate, come enjoy the comfort our hotel in the charming city of Nogent-le-Rotrou!