All the hotels in
22/05/2018 to 23/05/2018
Confort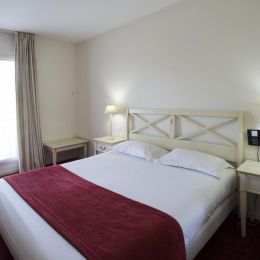 Home 24H/24

Canal+

Animals accepted
Hotel du Perche
The BRIT HOTEL Nogent-le-Rotrou is close to Perche Natural Park. This hotel has 40 rooms.
And I cumulate 2.5€ on
my loyalty account
Your trip in Eure-et-Loir
For a resourcing trip in Eure-et-Loir (28), find the ideal room and book your room in our hotel.
Located near Paris, the Eure-et-Loir department is a peaceful place in a well-preserved nature. Enjoy many outdoor activities during your stay in this department: go hiking or biking in the forest or explore natural parks. Marvel at sumptuous landscapes between valleys and hills and along the water...
You can even appreciate these magnificent sceneries from high above thanks to a hot air balloon!
Go ahead and book you room in our Eure-et-Loir hotel, you won't regret it!