Refine my search
Je cherche mon Brit Hotel
All the hotels in
17/05/2022 to 18/05/2022
Confort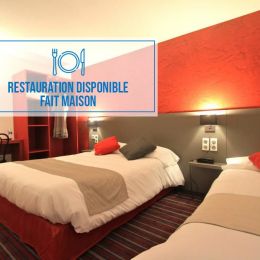 BRIT HOTEL KEROTEL ** - LORIENT CENTRE
Satisfation client
On 133 reviews
The Brit Hotel Kerotel is located in Lorient, only 10 minutes from the sea. The ...
Rating :
4.5/5
Satisfation client
On 133 reviews

Free Wifi

Parking

Opening hours of the receipt

Bar
Confort
Hotel Le Bran'hoc
Satisfation client
On 33 reviews
The Brit Hotel Le Bran'hoc is located near the port of Saint Goustan Auray. Thi...
Rating :
4.7/5
Satisfation client
On 33 reviews

Free Wifi

Parking

Home 24H/24

Animals accepted
And I cumulate 2.5€ on
my loyalty account
Confort
Brit Hotel La Croix Blanche
Satisfation client
On 9 reviews
The Brit Hotel La Croix Blanche is located in Sainte Anne d'Auray, near the Gulf...
Rating :
4.8/5
Satisfation client
On 9 reviews

Free Wifi

Parking
Restaurant
Your stay in Lorient
Discover Brittany as you stay in our hotel in Lorient!
Lorient is one of the region's main cities and has a population of 57.000. It's a major economic pole, open on the Atlantic Ocean. Nicknamed "the 5 ports city", Lorient is a maritime town which offers some great touristic opportunities. The city's fishing port developed after World War I. Today, Lorient is Brittany's number one trade port.
In Lorient, you'll feel a unique atmosphere as you walk through this city marked by a rich marine heritage and the souls of Breton marines and fishermen!
Labelled French Town of Art and History, Lorient offers several fascinating museums, among which the Musée de la Compagnie des Indes and the Cité de la Voile Éric Tabarly, named after the famous sailor.
During your family or friends trip, explore the Kéroman submarine base, where you'll get to see "La Flore" submarine. Add a visit of the Ecomuseum of Groix island on your to-do list.
The possibilities are endless in terms of activities: in Lorient, you can go on a boat trip, try canoe, explore biking and hiking trails…And you'll be doing all of these activities while enjoying the various landscapes of the littoral!
At night, spend a delightful moment in one of the city's many restaurants. If you're up for it, go see a show or go clubbing! After an entertaining night, enjoy the peaceful environment of our Lorient hotel to get a well-deserved rest…
Famous for its Inter-Celtic festival, which takes place every year in August, Lorient welcomes no less than 700.000 visitors every summer: it's one the most important French festivals.
Trust the Brit Hotel network and enjoy Wi-Fi at our hotel located in the north of Lorient, close to the airport and the SNCF train station!
Book your room right now, you're guaranteed to have a great time at the Lorient Brit Hotel!