Refine my search
I'm looking for my Brit Hotel
All the hotels in
03/10/2023 to 04/10/2023
Confort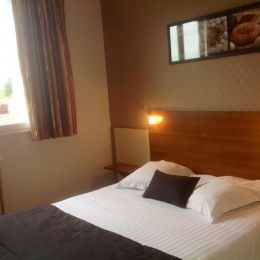 Brit Hotel Le Magdalena
Satisfation client
On 39 reviews
The Brit Hotel Le Magdalena is a 3-star hotel/restaurant which has 38 rooms and ...
Rating :
4.6/5
Satisfation client
On 39 reviews

Free Wifi

Parking
Your stay in Nevers
Stay at our Nevers hotel and you'll be guaranteed to have a great time thanks to Brit Hotel!
Discover the Saint-Cyr-et-Sainte-Julitte Cathedral, which is famous because it was built using several architectural styles. Palais Ducal, one of Loire Valley's first castles happened to be in Nevers. This classified Monument Historique was built in the 15th century. Beside the cathedral, Nevers has many fascinating religious buildings, from chapels to churches like the Sainte-Bernadette du Banlay church, built in different architectural styles.
At the end of the 16th century, Nevers became the capital city of faience. Today, the city has five workshops dedicated to this art. Learn more about it at the Frédéric Blandin Museum.
Nevers' gastronomic specialties earned a great part of their reputation through famous people. Taste as many as you can during your stay at the Brit Hotel Nevers! Négus, a chocolate-filled soft caramel, kept the same recipe since 1902! Other delicious sweet specialties include Nougatines and Chapeau Morvandiau. You trip to Nevers is also an opportunity to eat the tasteful Charolais cattle meat.
Go on peaceful walks on Nevers' trails, around lakes or at city parks such as the Roger Salengro park. Take a boat trip on the river near the city center or explore Apremont-sur-Allier's botanical garden.
Sports car fans will be happy for sure in Nevers: the city is home to the legendary Magny-Cours circuit, open in 1961!
Have fun at adventure parks, play golf or climb on tree tops. If you're looking for a big thrill, try the Paris-Nevers skydiving center!
Make the right choice and book your room at our hotel in Nevers!