Refine my search
I'm looking for my Brit Hotel
All the hotels in
30/11/2023 to 01/12/2023
Confort
Brit Hotel Roanne
Satisfation client
On 131 reviews
Discover our 31 rooms hotel in Roanne. ...
Rating :
4.7/5
Satisfation client
On 131 reviews
Essentiel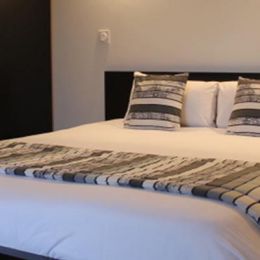 Brit Hotel Guinguet' L'Arbresle
Satisfation client
On 226 reviews
Discover the Brit Hotel Guinguet' located in L'Arbresle near Lyon!...
Rating :
3.7/5
Satisfation client
On 226 reviews

Free Wifi

Parking

Restaurant

Animals accepted
Your trip in Roanne
Put your suitcases in our hotel in Roanne ideally located in front of the train station, in this city lulled by the waves of the Loire.
If the cuisine of the Troisgros Brothers delights the taste buds of the greatest gourmands for a few decades, this riverside town offers many other beautiful tourist discoveries.
Stroll through the charming city centre of Roanne. Admire the view from the Tour de Saint-Jean-Saint-Maurice and visit the Château de la Roche. Thanks to its riverside history, the marina is nowadays an emblematic place for visitors.
If you want to discover something a little less conventional, head out to discover the Oudan River Bridge, also known as the upside-down canal bridge.
More sporty desires? Discover the many activities of the Parc de la Plage or let yourself be tempted by a game of Paintball for sensational adventures to tell when you return.
Ideas of outings to entertain you? Check out the Scarabée's programme, the city's event space which offers concerts, shows, exhibitions, fairs...
You are looking for something closer, the multiplex Le Grand Palais is only 250 meters from the hotel for improvised movie evenings.
Don't hesitate any longer, leave for a stay in Roanne's hotel!