All the hotels in
06/07/2020 to 07/07/2020


Confort

Free Wifi

Parking

Animals accepted
Confort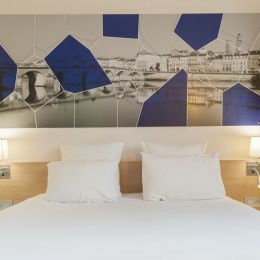 Free Wifi

Parking

Home 24H/24

air-conditioned rooms
Brit Hotel Mâcon Centre Gare
The Brit Hotel Mâcon Centre Gare is located in the city centre and close to the train station. It has 56 comfortable rooms.
Rating :
4.6/5
On 23 reviews
And I cumulate 2.5€ on
my loyalty account
Your stay in Auvergne-Rhônes-Alpes
Book your hotel in the Auvergne – Rhône-Alpes region! With 12 departments, this region is full of touristic treasures. From the volcanoes of Auvergne to the thermal city of Vichy and the vibrant city of Lyon…There are many attractions!
Stay in one of our hotels in Auvergne – Rhône-Alpes and experience many different activities: hiking, rafting, museum tours… Auvergne – Rhône-Alpes is also a region with a rich and diverse gastronomic heritage that cheese lovers will appreciate without a doubt!
Enjoy the comfort of our hotels in Vichy, Lyon or Clermont-Ferrand.