All the hotels in
06/07/2020 to 07/07/2020


Confort

Free Wifi

Parking

Home 24H/24

Canal+
Brit Hotel du Parc
The Brit Hotel du Parc, located in Lécousse by Fougères, has been opened since 1st June 2010. The hotel has 47 comfortable rooms.
Rating :
4.8/5
On 31 reviews
Confort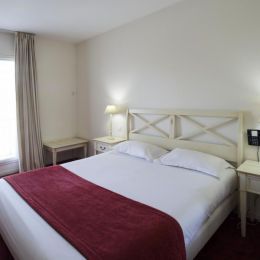 Home 24H/24

Canal+

Animals accepted
Hotel du Perche
The BRIT HOTEL Nogent-le-Rotrou is close to Perche Natural Park. This hotel has 40 rooms.
Rating :
4/5
On 190 reviews
Your stay in Normandy
Book you hotel in Normandy! Discover this littoral region and its wild and sumptuous sceneries. Walk along the Normandy landings beaches and stop by the Mont Saint-Michel, true national treasure.
Follow the Cider Route, a 40 kilometers-long touristic itinerary to discover the region and meet local producers. Visit some of the most beautiful villages in France and touristic sites which are part of UNESCO's world heritage.
From Cherbourg to Rouen and Caen, choose your hotel for a memorable stay in Normandy!