Refine my search
I'm looking for my Brit Hotel
All the hotels in
06/02/2023 to 07/02/2023
Privilège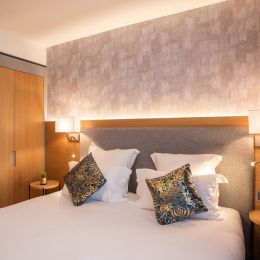 Brit Hotel Paris Orly Rungis
Discover our 4-star hotel located near Orly airport and the Rungis market....
And I cumulate 2.5€ on
my loyalty account
Your stay in Ile de France
Book your stay in the Ile-de-France region! Ile-de-France has many activities to offer: whether you're looking for classic activities or original ways to spend time, you're guaranteed to find what you need in this region!
Have a great time with your friends and family in Disneyland Paris or enjoy the countryside in the Fontainebleau forest. Why not embark on an adventure in the lovely Montmartre quarter and at the Modern Art Museum in the same day?
Ile-de-France is truly a region that gathers history and art… Choose Brit Hotel for your stay in Ile-de-France and discover great places such our Paris-Levallois hotel.