Refine my search
I'm looking for my Brit Hotel
All the hotels in
30/11/2023 to 01/12/2023
Confort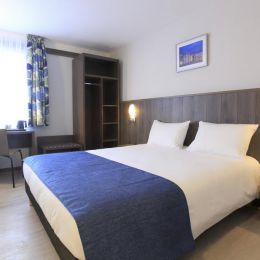 Brit Hotel Calais
Satisfation client
On 636 reviews
Discover our 65-rooms hotel in Calais....
Rating :
4.5/5
Satisfation client
On 636 reviews

Free Wifi

Home 24H/24

Animals accepted
Confort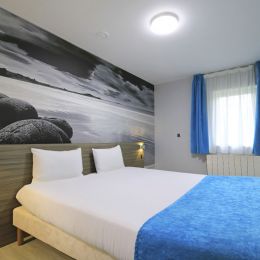 Brit Hotel Polder
Satisfation client
On 203 reviews
Discover our 38 rooms hotel in Gravelines and book at the best price....
Rating :
4.5/5
Satisfation client
On 203 reviews

Free Wifi

Parking

free

Breakfast Buffet
Confort
Brit Hotel Le Touquet-Etaples
Satisfation client
On 186 reviews
Relax in our hotel in Le Touquet and enjoy our comfortable rooms and our restaur...
Rating :
4.4/5
Satisfation client
On 186 reviews

Parking

Restaurant
And I cumulate 2.5€ on
my loyalty account
Your stay in Calais
While staying at our hotel in Calais, discover the charms of this city located in the Pas-de-Calais department at the heart of the Hauts-de-France region. Populated by a little over 72.000 people, Calais' harbor and tunnel under the English Channel make it the main connected to Great-Britain French city (Calais is only 38 kilometers away from British coasts).
Gorgeous beaches and capes (Cap Blanc-Nez and Cap Gris-Nez) are part of the many reasons to visit Calais and the Opal Coast and a great way to admire the marine fauna. Stride across the dunes and go see Calais' lighthouse, you won't regret it!
Calais' location always made it a coveted place, which forced the city to protect itself from potential invasions. Although the fortified castle and its surrounding walls have now disappeared, the Tour du Guet still exists, along with several forts on the opal Coast.
The city's history was also marked by lace fabric, which you can learn more about at the Museum of Lace and Fashion, located inside an authentic 19th century lace factory.
Many nautical activities are possible (land sailing, windsurfing, rowing…) but you can also go bowling, horse-riding, swimming…
Don't hesitate any longer and book your hotel in Calais!