Refine my search
I'm looking for my Brit Hotel
All the hotels in
24/09/2023 to 25/09/2023
Confort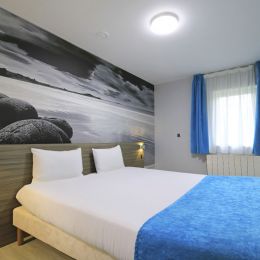 Brit Hotel Polder
Satisfation client
On 180 reviews
Discover our 38 rooms hotel in Gravelines and book at the best price....
Rating :
4.5/5
Satisfation client
On 180 reviews

Free Wifi

Parking

free

Breakfast Buffet
Confort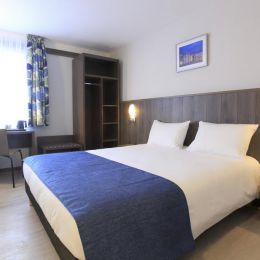 Brit Hotel Calais
Satisfation client
On 619 reviews
Discover our 65-rooms hotel in Calais....
Rating :
4.5/5
Satisfation client
On 619 reviews

Free Wifi

Home 24H/24

Animals accepted
And I cumulate 2.5€ on
my loyalty account
Your stay in Gravelines
Book your hotel in Gravelines and discover all the charms of Northern France. Situated on the North Sea coast, Gravelines is composed of 11000 inhabitants. The municipality is part of the urban community of Dunkerque.
During your stay in Gravelines, take advantage of all the sights that are available to you. Discover for example the belfry listed as a UNESCO World Heritage site. 27 meters high, it offers a nice view of the city. Continue to climb and visit the Petit-Fort-Philippe Lighthouse. From the top of its 116 steps, it offers an unobstructed view of the banks of the Aa.
Staying in our hotel in Gravelines will also allow you to discover the fortifications of the city. Pass through the Arsenal, the Porte aux Boules or the Casernes Varennes and Uxelles.
The Lebriez Mill is also one of the sights of Gravelines. Although it has not worked since 1966, it remains to be discovered because of its singularity.
Finally, visit the Bourbourg prison! This unusual place will allow you to discover the conditions of detention in the 16th century.
As for activities, Gravelines is not to be outdone and offers you several possibilities to entertain yourself. Paintball, fishing, swimming, motor sports... Choose the activity that suits you best!
Don't wait any longer, book your Brit Hotel in Gravelines now.