Refine my search
I'm looking for my Brit Hotel
All the hotels in
03/10/2023 to 04/10/2023
Confort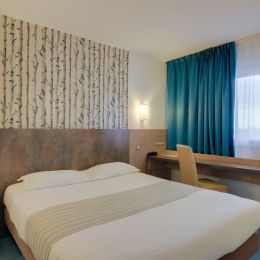 Brit Hotel Hermes Dijon
Satisfation client
On 79 reviews
The Brit Hotel Hermes*** is located in Couchey, 7 km from Dijon. In the heart ...
Rating :
4.2/5
Satisfation client
On 79 reviews

Free Wifi

Parking

Restaurant
Stopover
And I cumulate 2.5€ on
my loyalty account
Your stay in Cote d'Or
Book your stay in Cote d'Or department and choose one of our hotels in this department. Wines and gastronomy are two things you must discover as you explore Côte d'Or. Follow the road of Grands crus and stop by vineyards and wine caves.
Pair up great wines with delicious local dishes! The natural spaces of Côte d'or will amaze you. From hiking to nautical activities such as canoe-kayak, the possibilities are endless.
You can even admire Côte d'Or's breathtaking landscapes through paragliding or on a hot air balloon.
Don't wait anymore to book your trip, our Brit Hotels in Côte d'Or are just what you need!