Le Jardin des personnalités
The jardin des personnalités of Honfleur was created in 2004 on a surface area 10 hectares. Walk through this garden and stop by the busts of famous personalities of Honfleur: painter Eugène Boudin, Erik Satie, Lucie Delarue, Mardrus, Claude Monnet…Explore this place with your family or friends during your stay in Honfleur.
promenade de la jetée
14600 HONFLEUR
02 31 89 23 30
+

Zoo de Jurques
The Zoo of Jurques is only 20 minutes away from Caen. It's the ideal place for a fun trip with your friends or family. Kids will love the mini farm! Throughout your visit, you'll get to see animals from Africa, Asia, North America, Europe and Australia. Children and adults will be equally amazed by these fascinating animals. Have a great visit!
Zoo de Jurques
14260 JURQUES
0231778058
+

La Guingette à  Tartine
Try canoe kayak or mini golf at La Guinguette à Tartine. Young children will have fun on inflatable games!
Le Pont du Vey
14570 CLECY
02 31 69 89 38
+

Le Labyrinthe du Pays de Honfleur
Welcome to the labyrinth of Honfleur! Explore the 4 hectares of its park within a 2 hours visit. A booklet will guide you through 5 mazes gathered to form a big labyrinth. One of the circuits is for children between 4 and 6 years old, while the other mazes were designed for the whole family. Enjoy fun activities in a natural and orginal space!
Chemin du Val de Reine
146000 EQUEMAUVILLE
06 52 81 44 73
+

château de Caen
The castle of Caen is one of the biggest fortified buildings in Europe. Truly attached to this part of its architectural heritage, Caen city tries to preserve this place as much as possible with frequent renovations. This place is a symbol of the French Monarchy and represents its majesty and power.
Le Château 
14000 CAEN
02 31 30 47 69
+

Le Musée d'Ethnographie et d'Art Populaire Normand
The Musée d'Ethnographie et d'Art Populaire has 12 rooms which represent Normand interior designs. The museum will also enable you to visit former prisons and discover exceptional collections of ancient objects.
Quai Saint-Etienne 
14600 HONFLEUR
 02 31 89 14 12
+

Musée des Beaux Arts
Caen's Fine Arts museum is located at the heart of William the Conqueror's castle and gathers numerous paintings from Europe and all over the world made during the 16th and 17th centuries. You'll also get to admire a magnificent collection of engravings. Visit the Fine Arts Museum of Caen and enrich your culture in this unmissable place.
Château de Caen Allée du Chat Qui Veille
14000 CAEN
02 31 86 85 84
+

Musée de la Marine
The Marine Museum is set in the former Saint-Etienne church and presents themes which reflect the daily life of fishermen and the society through engravings, drawings and paintings. A must-see during your stay in Honfleur.
Quai Saint-Etienne
14600 HONFLEUR
02 31 89 14 12
+

Mémorial de Caen
Caen's memorial is a must-see during your stay in Normandy! Located near the Normandy landings beaches, this museum dedicated to the history of 20th century will teach you about the major conflicts which occurred during the 20th century. Learn more about World War II and June 6, 1944 among many other things on a total surface area 14.000 sqm.
Esplanade Général Eisenhower
14050 CAEN
02 31 06 06 45
+

Bowling
Bowling Mondeville is a polace where you can relax and spend quality time with your family or friends; Challenge each other on one of the 22 bowling alleys and score strikes to win the game!

6 rue Charles Mondeville
14012 MONDEVILLE
02 31 82 53 58
+

Ornavik village viking
Ornavik is a building site where you' ll get to build, forger, weave and cultivate using 10 and 11th centuries tools and techniques. This experimental archeological site is an educational project to help visitors understand what life was like during the Middle Age. Thanks to ornavik, immerse yourself for a day and live like back in the days where Normandy was created.
Domaine de Beauregard, 568, route départementale 515
14200 HEROUVILLE SAINT CLAIR
02 31 52 40 90
+

Les planches de Deauville
Deauville's Planches were created in 1923 along the beach. They were first installed so that women wouldn't get their desses dirty. The Planches are now a famous place renowned in the entire world, where the most famous celebrities have been.
Les planches de deauville
14800 Deauville
+

Naturospace - Le Paradis Tropical
During your stay in Honfleur, discover a tropical paradise! A space entirely dedicated to tropical vegetals, butterflies and birds. If you're looking for a fun activity, you should enjoy the naturospace. You'll have a memorable time with your family or friends!
Boulevard Charles V
14600 HONFLEUR
02 31 81 77 00
+

L'ilot z'enfants
L'ilot Z'enfants is a magic place where your kids will have a great time pretending to be pirates and avoiding all sorts of obstacles!
19 chemin de courcelles
14120 MONDEVILLE
02 31 35 61 70
+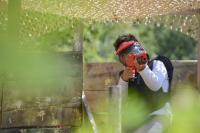 Paintballfury
The staff of paintball Fury welcomes you for a fun time in Caen. You'll have a blast and live a thrilling exoperience with your friends or family at Caen's Paintball Fury!
37 Rue de Québec
14000 CAEN
02 31 74 19 09
+

Girafou
Parc de Girafou will make your kids happy ! They'll have fun trying all sorts of activities: inflatable games, maze, karting…So don't hesitate to come with your family for a truly entertaining moment during your stay in Caen.
Clos de la Hogue
14970 Bénouville
02 31 53 72 68
+

Zoo de Cerza
Cerza is 60 hectares space dedicated to the reproduction and farming of endangered animals. The safari train ,mini farm and 3D cinema will entertain you all day long. Have fun and get to know various animals during your stay in Caen.
départementale 143
14100 HERMIVAL LES MAUX
02 31 62 15 76
+

château Guillaume le conquérant
Visit William the Conqueror's castle, this exceptional building has 3 donjons and fortifications with 15 towers which dominate the city. Get to know the people who marked this Anglo-Norman domain and learn more about their adventures. Screenings, 3D objects and various activities will help you experience William the Conqueror's lifestyle.
Place guillaume le conquérant
14700 FALAISE
02 31 41 61 44
+

Musée de Normandie
The Museum of Normandy has rich archeological and ethnological collections and introduces you to the life of normand people from the Prehistoric era. Located in the castle of Caen, the museum also gives you acces to its backstage area, where you'll find various documents, as well as a restoration laboratory.
Le Château 
14000 CAEN
02 31 30 47 60
+

Parc d'attractions Festyland
Theme park Festyland is meant for you! Come with your family or friends, you're guaranteed to have fun in Festyland. You'll find aquatic and outdoor activities. Experience 4 totally different universe (pirates, Middle Age, vikings and Belle Epoque ). Have a great day in Festyland!
Parc FESTYLAND 
14760  BRETTEVILLE S/ ODON
02.31.75.04.04
+

Les vedettes de Normandie
Navettes de Normandie take you on boat cruises on Caen's Orne channel. Durring summer, discover the Normandy landings beaches and the flowery coast on board of the "Boédic". Admire the region's rich architectural and historic heritage.
115, Avenue du Général de Gaulle
14160 Dives-sur-Mer
02 31 43 86 12
+