Ferme de la Sa âne
Discover the Saône farm near Dieppe! Hump on a horse-drawn carriage, have a snack from the farm and make some bread and cider "à l'ancienne"…A fun and enriching day awaits!
432 rue du Saule
76860 Saint-Denis d'Aclon
02 35 85 24 34
+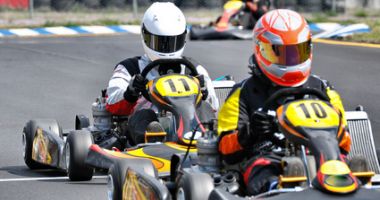 Euro Dieppe Karting
Challenge your family or friends to a karting race! Euro Dieppe Karting is the perfect place for that, thanks to its two circuits accredited by the FFSA (Fédération Française du Sport Automobile).

Zone d'activité verte
76370 Rouxmesnil Bouteilles
02 35 06 13 33
+

Estran Cité de la Mer
Guided tours and workshops are organized in this museum where you'll learn more about Normandy littoral and the Marine universe.
37 rue de l'Asile Thomas
76200 Dieppe
+

Artmazia
Near Dieppe, take a ressourcing walk in the middle of nature, through gardens, sculptures and a vegetal maze.
25 route de Neufchâtel
76270 Massy
+

Arb'Aventure
Come out for a fun time with your fmily or friends at park Arb'Aventure, where you'll find activities of all kinds and various levels of difficulty.
101 route de la Mer
76590 Dénestanville
02 35 83 41 86
+

L'ilot Pirate
If your kids are beetween 1 and 13 years old, stop by L'ilôt Pirate, a restaurant with all sorts of fun games: karts, slides, ball pool…
ZAC du Val Druel
76200 Dieppe
02 35 82 67 45
+