Your activities in Grand-Est
On the Champagne road...visit the Vine Museum in Verzenay
Marne is the first department producer of Champagne: explore different vineyards and stop by caves for a visit and a Champagne tasting. On your way, stop by the Vine museum in Verzenay and learn more about the fabrication process of Champagne.
Parc naturel régional de la Montagne de Reims
51360 Verzenay
+
Marvel at Lake Gerardmer in the Vosges
Lake Gerardmer is the biggest natural lake of the Vosges and a very peaceful place. Enjoy a paddle boat ride or a walk around this natural wonder surrounded by mountains and forests.
Lac de Gérardmer
88400 Gérardmer
+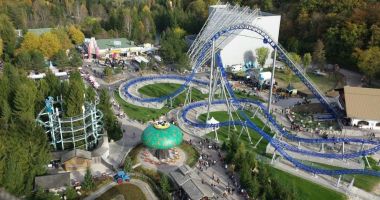 Nigloland theme park
Spend a memorable time with your family and friends at Nigloland. This theme park located in Dolancourt offers large choice of rides for children and adults.

Parc naturel régional de la Forêt d'OrientD619
10200 Dolancourt
+
Go hiking in Langres
Hikers of all kinds appreciate the Grand Est region for its various hiking trails. The Circuit de la Croisée des voies Romaines, located in Haute-Marne is accessible to everyone.
Square Olivier Lahalle
52200 Langres
+
Stop by the Écomusée d'Alsace
Located in the lovely city of Ungersheim, this original outdoor museum has no less than 70 typical Alsatian buildings for you to discover. A fun way to immerse yourself in local culture and traditions.
Chemin du Grosswald
68190 Ungersheim
+
Visit the city of Strasbourg
Discover the wonderful city of Strasbourg, European capital city and French Town of Art and History. Strasbourg's historic center is part of UNESCO's World Heritage. Don't miss the opportunity to visit the 142-meter-high Notre-Dame cathedral!
1 parc de l'Étoile
67076 Strasbourg
+