Discover a town steeped in history, in the footsteps of Rabelais and Joan of Arc!
A town rich in heritage, Chinon has plenty to attract tourists. Let yourself be tempted by a walk through the heart of the town and discover the beautiful places that make up and surround it: the Royal Fortress, Place Jeanne d'Arc or the Caves Painctes.
This town will appeal to lovers of castles and museums, but also of nature and breathtaking landscapes.
For a family outing in Chinon, opt for sporting activities on the Vienne river or in the forest, such as kayaking, paddle boarding or accrobranche.
Don't wait any longer, book your hotel in Chinon and come and visit the many historic sites in Chinon! Find our selection of activities to do in Chinon below.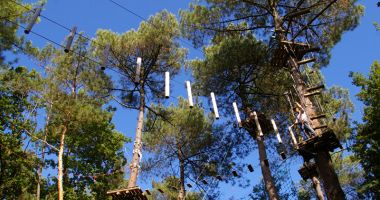 Accrobranche
Saint Benoit Aventure proposes several types of activities around the accrobranche. Whether you are an amateur or a seasoned climber, there is something for everyone. 17 courses are proposed and go from the simple initiation to the course "The warriors".
D139
37500 Saint-Benoît-la-Forêt
06 89 07 18 96
+

Royal Fortress of Chinon
The Royal Fortress of Chinon is an emblematic monument of the medieval period in the Loire Valley. The fortress welcomed Jeanne d'Arc and it is here that she met Charles VII before liberating Orleans.
2 Rue du Château
37500 Chinon
02 47 93 13 45
+

Walk with sled dogs
A ride with sled dogs is possible to live a unique experience. You will be able to guide these Nordic dogs and enjoy the magnificent landscapes that this region offers.
Les Prenats
37120 Braslou
07 50 89 82 00
+

Canoeing in Chinon
In Chinon, you will have the possibility to go down the Vienne river in canoe-kayak. You can discover a variety of landscapes while practicing a sport activity, at your own pace. For those who are new to canoeing, a guide can accompany you.