Your activities in Sainte-Anne d'Auray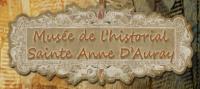 Musée de Cire
The Historial wax museum reconstitutes the apparitions of Sainte-Anne, mother of Marie, which are the starting points of the Breton pilgrimage. Discover life-size wax statues and impressive decors.
6 rue de vannes
56400 Ste Anne d'Auray
+

Sanctuaire sainte anne d'auray
The sanctuary of Sainte-Anne-d'Auray is the pilgrimage place in Brittany.
9 rue de Vanne
56400 Sainte-Anne d'Auray
02 97 57 68 80
+

Cloitre de Saint Anne d'Auray
The cloister is Sainte-Anne-d'Auray's most ancient monument. The first storey used to be an ambulatory while the ground floor was a cloister for pilgrims. You can also see an exhibition called"Le verbe et la lettre : trésors de bibliothèque de Bretagne".
9, route de vannes
56400 Sainte Anne d
02 97 57 55 23
+

Ecomusée de Saint-Dégan
At the heart of the village of Saint-Dégan, the ecomuseum takes you on a trip down history lane in Auray and its surroundings. Discover how people used to live, their activities, nature, festivities and costumes.
Rue Park Ségal
56400 BRECH
02 97 57 66 00
+

Chapelle Notre Dame de recouvrance
The Notre-Dame de Recouvrance chapel is a pilgrimage place where you'll discover the fascinating story of its miraculous medal suring your stay in Sainte-Anne-d'Auray.
chapelle notre dame
56400 SAINTE ANNE D'AURAY
+