Your activities in Saint-Malo

Musée Jacques Cartier
The manoir de Limoëlou belonged to Jacques Cartier, one of the most famous European explorers in the 16th century. Today , this museum is enterily dedicated to him. Dive into the daily life and fascinantinf travels of this legendary man with your family or friends. Have a great visit!
Rue David Mac Donald StewartRothéneuf
35400 SAINT MALO
02 99 40 82 63
+

Cinéma le Vauban
Spend a nice evening with your family and friends in front of the latest movie and enjoy the 5 rooms of this cinema during your stay in Saint-Malo.
10 Boulevard de La Tour d
35400 SAINT MALO
+

château et Parc de la Bourbansais
Château de la Bourbansais welcomes you in an exceptional scenery. Built during the 16th century, this castle has a French garden and you'll also have access to the Zoo de la Bourbansais, where you'll get to admire impressive animal species that you won't find in any other French zoo. Don't miss the chance to see a the pack of hounds' show!
La Bourbansais
35720 PLEUGEUNEUC
02 96 39 81 33
+

Fort National
Saint-Malo's Fort National was built in 1689 by famous architect Vauban in order to protect the port of Saint-Malo. Take a guided tour of the fort and the undergrounds to understand their story. Enjoy sumptuous viewpoints with your family or freinds!
Fort national
35400 SAINT MALO
06 72 46 66 26 
+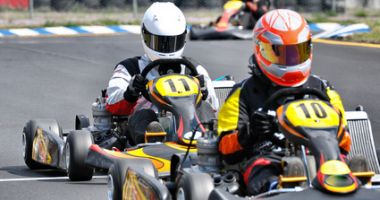 Karting de Saint Malo
Put yourself in the shoes of a pilot at the Karting of Saint-Malo! You can also play paintball. Either way, get ready for some pure adrenaline with your family or friends!

Les nielles
35350 SAINT MELOIR DES ONDES
02 99 89 16 88
+

Cobac Parc
Cobac Parc welcomes children and adults with all sorts of fun activities! You won't run out of things to do as you explore the kids' island, play mini golf or play water games; the whole family will have a blast!
D75 axe st malo rennes
35620 Lanhélin
02 99 73 80 16
+

Musée du Long Cours Cap Hornier
Located in the Saint-Servan quarter in Saint-Malo, the Musée international du Long-Cours Cap Hornier is set in the Solidor tower, a fortification which dates back to the end of the 14th century. The four storeys of this tower are full of maps, mock-ups ships and photos. You'll also get to read various testimonies from captains who crossed the dangerous Cape Horn.
Tour Solidor Quai Sébastopol Saint-Servan
35400 SAINT MALO
02 99 40 71 58
+

Musée 39/45
The World War II Museum is located in the fort of the Citadel of Alet, inside the blockhouses of the German anti-aircraft defense. You'll be able to follow a guide during the visit and retrace the evolution of the conflict at the heart of Saint-Malo. Photos, mannequins, weapons and documents will immerse you in this dark phase of worldwide history.
Fort de la Cité d
35400 SAINT MALO
02 99 82 41 74
+

Casino de Saint Malo
The casino of Saint-Malo welcomes you in a friendly and relaxing atmosphere. Slot machines, games tables, poker…Come spend an entertaining time!
2 Chaussée du Sillon
35400 SAINT MALO
02 99 40 64 00
+

Musée du Rail
Dinan's Railway Museum is the ideal place for people who have a passion for railway scale modelling. The museum is supported by local association "Les Amis du rail Dinannais". Several collections of static and dynamic scale models are displayed and various documents and objects of former train companies and SNCF are exposed in the venue.
Gare de Dinan Place du 11 Novembre
22100 DINAN
02 96 39 81 33
+

Musée du Cidre
The Cider Museum is located in a renovated traditional farm and presents several themes: apple, health, painting, poetry, history, advertising, beauty…The Cider Museum welcomes groups with fun activities such as tasting sessions where people can try products from the farm.
La Ville Hervy
22690 PLEUDIHEN-SUR-RANCE
02 96 83 20 78
+

Grand Aquarium
Saint-Malo's Grand Aquarium is located at the gate of the legendary citadel. It is one of the most beautiful aquariums in France and Brittany's first touristic site, with over 360.000 visitors each year. On a total surface area 4000 sqm, you'll get to admire over 11.000 marine animals and 600 different species. Come spend a nice moment with your family or friends at the Grand Aquarium of Saint-Malo
Rue du Général Patton
35402 SAINT MALO
02 99 21 19 00
+

Labyrinthe du Corsaire
The labyrinth of Saint-Malo is great for a nice moment of family or friends. Try and find your way out of a corn field by solving riddles. You'll also find spaces dedicated to relaxation and food service.
Route de Quelmer - La Passagère
35400 SAINT MALO
02 99 81 17 23
+

Les rochers sculptés
Discover the exceptionnal art pieces of Abbé Fouré (a death and mute priest), who spent 25 years sculpting rock. Over 300 characters inspired by the légend of Rothéneuf are represented (privateers and noble with a bloodthirsty temperament). Discover a surface area 500 sqm which tower over the sea.
les rochers sculptés
35400 SAINT MALO
02 99 56 23 95
+

Musée d'Histoire de la Ville
Saint-Malo's history museum owns the "Musée de France" label. Paintings collections are presented in the Grand Donjon and in the castle's main tower. No less than 8500 art pieces are historical testimonies and part of Saint-Malo's rich heritage.
Esplanade Félicité Lamennais Château Intra-Muros
35400 SAINT MALO
02 99 40 71 57
+