Your activities in Pleumeur-Bodou

La cité des Télécoms
Visit the Cité des Télécoms and immerse yourself in the telecommunication universe. Games, activities, 3D videos…fun activities for a nice moment!
route du radôme
22560 PLEUMEUR BODOU
02 96 46 63 80
+

Le village gaulois
Have a great time with your family in this Gallic village during your stay in Pleumeur-Bodou. Young children will enjoy games built by the druid.
Parc du Radôme
22560 Pleumeur-Bodou
02.96.91.83.95
+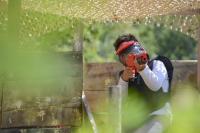 Paintball-évènement
The Paintball Evènements of Pleumeur Bodou welcomes you in a dynamic atmosphere. Careful not to be targeted by the opposite team. Come out and enjoy a fun activity with your family or friends!
Route de Kéraliès
22560 PLEUMEUR BODOU
06.12.42.85.31
+

Vivons perchés - Parcours aventure
The adventure circuit of Pleumeur Bodou is right at the heart of the Pink Granite Coast. Multiple activities are available for children and adults to have fun in the trees thanks to zip-lines, monkey bridges and fun obstacles.
Route du Radôme
22560 PLEUMEUR BODOU
06.22.53.46.45
+

Planétarium de Bretagne
The sky is a fascinating place. Learn more about the solar system, the moon, the stars and fascinanting planets such as Mars at Pleumeur Bodou's planetarium. Visit this enchanting place for a magic moment in the middle of the planets…
Route du Radôme
22560 PLEUMEUR BODOU
02 96 15 80 30
+